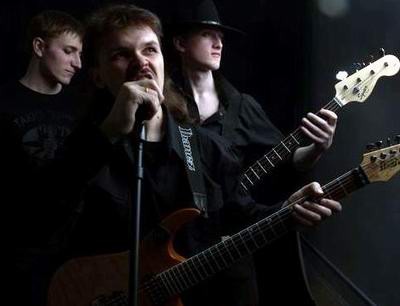 A long time ago since 1990 many songs were appearing by themselves in my mind. At that moment I was able just to write down the lyrics. But to show the whole songs to somebody else I had to reach and improve a lot of experiences in guitar playing, music notation, arrangement and so on. In my childhood I even could not imagine that I'll become a musician and a programmer.
My first acoustic band was organized at school, it included some of my classmates. Studying at the university, I played guitar in a band "Holodilnik" (means "Refrigerator" in Russian). Than there were "Tefronomatia", "Holy Diver", bass guitar in "Twice Die", experiments with electronic music in a solo project "Ress 24" and participation in a CD of the winners of the content Electro2004, performance of my own songs in "Navsegda" ("Forever" in Russian) band as a vocalist, guitarist and arranger; live broadcast of the final regional Junior Eurovision song contest in Dmitry Koldun's band, played bass guitar and sang in a pop-rock band Dilemma. Now I sing in Concordia Chor, play guitar with friends in some bands, and it's not the complete list...
Being a programmer, I have not only visited different regions of Europe, but have lived and worked there, especially in Germany. The earned money were usually spent to the favorite hobby - music. Almost everyday I practice myself in English or German.
The work on the new album is still continuing. It will contain some songs which could be heard during live concerts of different bands in which I took part.
Sergey Osipov